It's been a quiet week on Get Lippie, sorry about that! I did notice that whilst I was in Paris I broke the 900 follower barrier though - thank you very much!
What better way to celebrate my return to Blighty than with a little giveaway?
I'm doing one this week, and one next, first up, some cult French skincare:
Yup, one 500ml bottle of Bioderma Crealine, a cleansing water that shifts even the toughest makeup. Everyone who's used it (I've not opened my bottle yet though) absolutely swears by it.
But that's not all! I'll even chuck in a packet of these: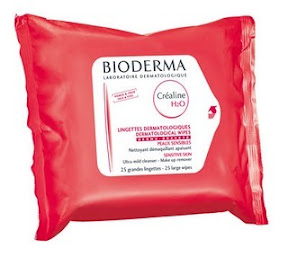 Bioderma Crealine Wipes! Possibly even more mythical than the cleanser itself, both of these products are nigh-on impossible to find in the UK, but one lucky winner can try both of these (purchased out of my own pocket, and, what's more, dragged back across the channel with my own fair hands!) just by telling me what they would have brought back from Paris with them in the comments on this post (alongside a working email address).
Giveaway will end on 27th May, UK entrants only (sorry!) and please be a blog follower. Get Lippie reserves the right to disqualify non-compliant entries, and all decisions are final.
Good luck!