Posts are a bit thin this week because I've been ill (hang on till Monday though, won't you? I have a
doozy
coming up!) but this little bottle of precious arrived yesterday and it was all I could do not to paint my mails there and then!
OPI DS polishes are a particular weakness of mine, being - by and large - holographics. And I love me a bit of holo action! I spotted this on lovely Jen's Lipstick Luvvies blog sale at the weekend and had to snap it up!
Under halogen lighting (like the two pics above) it shows as a little peachy-pink number, but under fluorescents and in natural daylight (as below) you can see that it is actually a very sweet, soft baby-pink: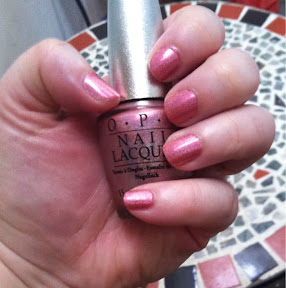 Not a colour I wear often, but very cheering, and a perfect antidote to last week's chocolate brown that I hated so much.
I bought another one too, and I'll show you that soon ...