I tried OPI's Suzi Loves Cowboys from their recent Texas collection, but the plain dark brown creme shade didn't really suit me, so I souped it up a little with a coat of Nfu Oh #61:
And it turned out a lot nicer than anticipated. However, this was two coats of OPI, two coats of Nfu Oh, and two coats of Poshe topcoat, it lasted a day, then started pinging off all over the place!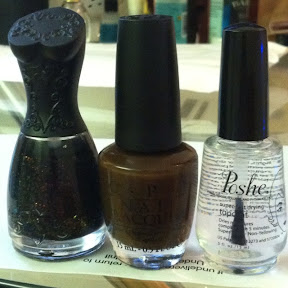 So, a nice combination, but next time, only one coat each of the OPI and topcoat ....