I've been waiting for these to be released for about six weeks now, so when I noticed they'd been released early - I thought they were out at the end of the month! - I had to snap up a couple. Or four...
The shades I picked were (l-r): 66 - Bel-Ami: a lightly bronzed brown; 61 - Bonheur: a sheer berry; 55 - Romance: bubblegum pink and 54 - Boy: a pale caramel nude. In the tubes these shades look vivid and full of pigment, but the full beauty of these sticks is revealed on swatching:
Lightly pigmented, glossy and sheer, these shades are essentially a shiny, cushioned, balm for your lips. Wear isn't, of course, as good as the original Rouge Coco shades, but dang, these do feel wonderful on your lips! Speaking of which, here ate the lip swatches:
66 Bel-Ami:
Not nearly as brown as it appears in the bullet, this is almost reddish on the lips, but is entirely office-appropriate.
61 Bonheur
Possibly my favourite of the four, this pinked-berry is glorious for giving you that "just-bitten" look.
55 Romance
Not nearly as fluoro in the flesh as it appears in this picture, this is an exceptionally pretty, cool bubblegum pink. I'm looking forward to seeing how this one looks with a tan!
54 Boy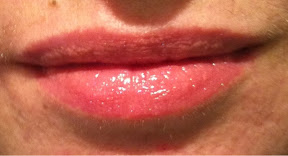 My lips are quite pigmented, so much of the colour you're seeing here is not from the lipstick itself, which appears as the merest whisp of creamy beige on my lips. A good neutral for me, possibly, but maybe not a shade I'd consider re-purchasing.
Packaged in a thinner version of the Rouge Coco packaging, these look classy, and will be an asset to my makeup bag, owing to their moisturising properties, and I think they'll be perfect for summer wear.
Chanel Rouge Coco Shines are available now and cost £22.50 each.