I could give a stuff about Katy Perry,
and
the associated crackle polish from her recent collection for OPI, to be honest, but even so I can't deny this deep fuschia-purple shade that's just packed with glass flecks is almost too gorgeous for words: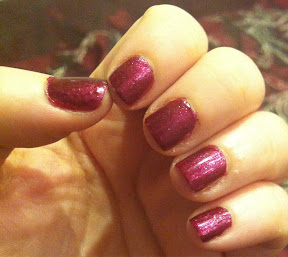 I'm about to get MrLippie to paint my toes with this too... Don't tell him! Perfect happy-making shade for a wet Saturday afternoon.
This came from Selfridges, and cost £10.50. Thought the rest of the shades were just a bit ...
meh
, so passed on the rest of them.