This week, I have mostly been wearing: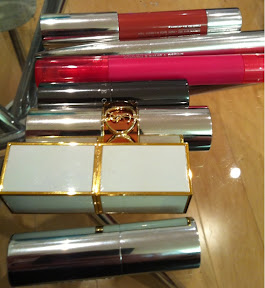 Clinique Chubby Stick - Mega Melon
Ellis Faas Creamy Lips - L307
Revlon Just Bitten Lipstain - Passion
Chantecaille Lip Chic - Tea Rose
Yves St Laurent Candy Sheer Volupte - 2 Papaya Gelee
Tom Ford - True Coral
And finally …
The last lipstick there is a mystery, the full details of which I'll reveal ... eventually! But it's obviously been a coral kind of week...
Here are the swatches, which one catches your eye?
It might be warm outside, but I still love wearing my lipstick.